So, just when you think you're about to read another post on architecture or libraries....
Wait! That's fashion? What?
That's right, I'm merging!
After a long year of authoring two blogs (and doing a half-ass job of it) I have decided to merge my blogs into one platform. This way, I save myself time and trouble, and I am able to combine the two loves of my life: traveling and fashion.
Actually, the two really go hand-in-hand. Think of the themes...What to wear when you travel...How to pack lightly but still have a different outfit everyday....What other people wear abroad...
Ok, I don't pretend to be an authority on the subject, but at least now I don't have to justify segregating my interests or decided what to post where.
So, back in Seattle, I was just finishing up a business trip and when I stepped out of the conference at the Renaissance hotel in downtown, I happened upon the 200-million-dollar Central Library of Seattle. I hadn't planned on stopping by, but as soon as it was light out the next morning I made my way over there.
Inside it was even more impressive. The ground floor was extremely spacious with tall ceilings and natural lighting.
Computers by the entrance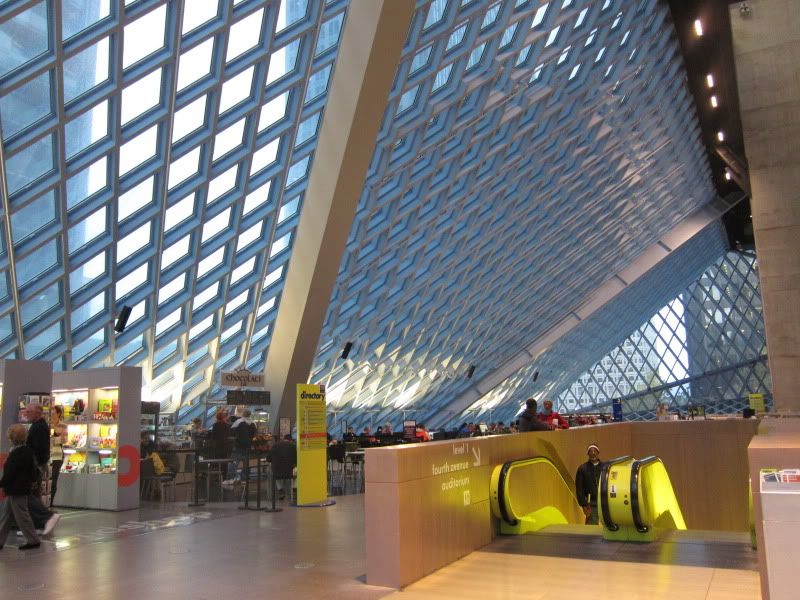 Cafe and gift shop
The fiction section
I absolutely love love love the use of neon! The yellow escalators were unreal. I felt like I was walking through a set of Beyond the Black Rainbow, or some other trippy futuristic film.
That is an installation built into the wall on the left side.
Enter: the spaceship
One of my favorite places in the entire library was the Red Room. It felt like being inside a heart. In a way, this room reminded me more of Harpa, whose concert halls were that same alarming red.
Entering the red room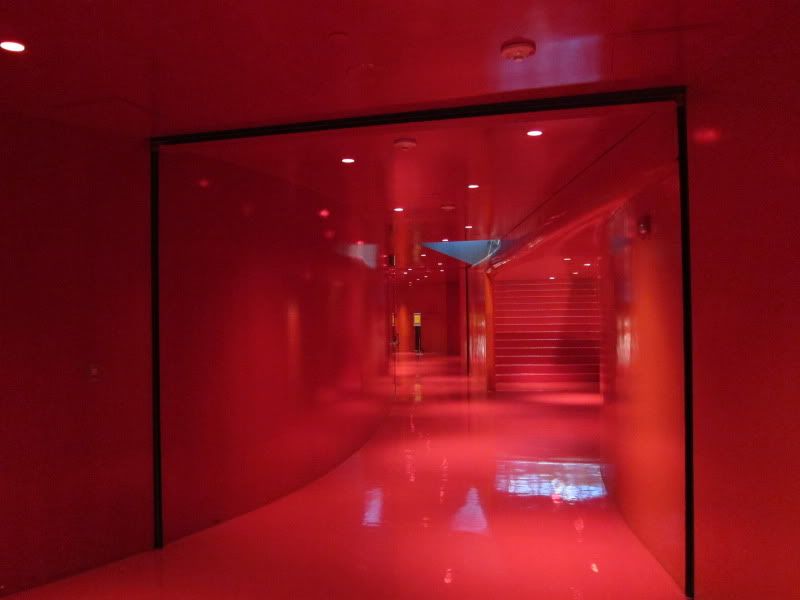 Inside the beating heart
The library is 11-stories tall, and floors 6-10 are called the "Books Spiral." Basically, you can walk from the tenth floor to the sixth floor without going down one stair. Instead each floor is tilted slightly like a ramp, so you slowly descend in a spiral until you hit the 6th floor.
The top floor does not boast the best view of the city, but it is a cathedral of lights and shapes.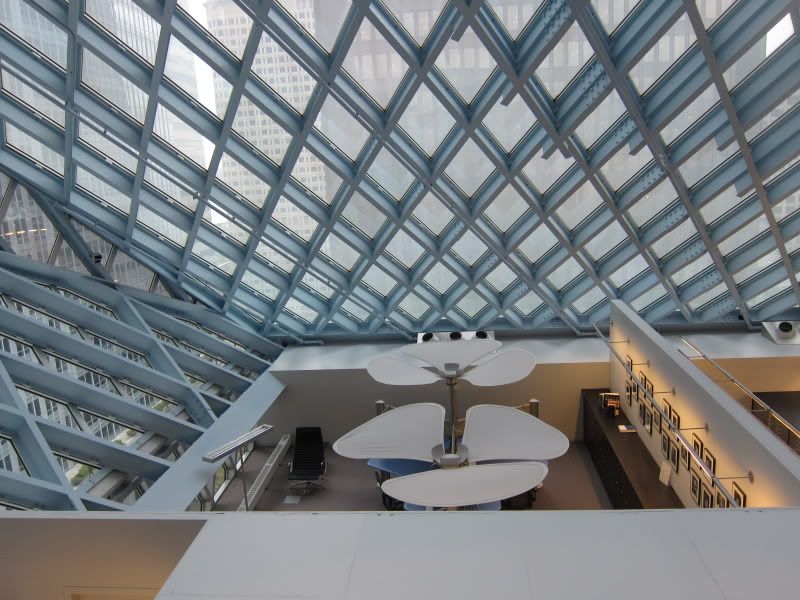 That's someone's office. Jealous?
A view of the "living room" from above