Alright, I have to remind myself that it's time to stop reliving my foreign fantasies and settle for a nice dose of reality.
Here is what I'm doing now....
Enjoying a delicious bubble tea at Saint's Alp Teahouse in Chicago. I've been traveling quite a bit for work lately, but not the kind of traveling I like to do. I recently had some down time in Chicago and am taking advantage of this precious opportunity to relish in bubble tea heaven. I have been dreaming of this place ever since I went to their New York location back in 2009.
It's a funny story how I heard about this place, one of those things I like to call, chance happenings.
As part of my research on racism against Asian Americans, I was reading an article for class on the plane to NYC, and the author (a journalist) casually mentioned that her interview with the article's informant took place over a bubble tea at Saint's Alp in NYC. Seeing as how I was about to arrive in New York imminently with no solid plans, I jotted down the name of the place in my notebook and decided to check it out later.
What the hell else was I going to do?
I hadn't done any research on the right places to go in NYC, and I wasn't yet savvy on Yelp, so I didn't think to go online and check ratings. I just decided that if the place was good enough for a journalist to conduct an interview, it was good enough for me.

On the second day in New York I visited this tiny cafe near NYU and fell in love. The bubble tea was thick and frothy, the tea eggs were savory, and the pork chop rice meal was divine. I went back every single day until I flew home.
I became a regular fixture at the Saint's Alp in New York, sitting in a corner, writing for two to three hours while knocking back one bubble tea after another. When I heard they opened a location in Chicago's Chinatown, I became all the more excited to relive my experience.
The Chicago location was quite a bit different than New York City. First of all, it's much more like a restaurant than a cafe. The menu was surprisingly more robust than what I remember it being in New York, though that could have changed since 2009. It was also not nearly as busy. I got a large booth to myself, and there were only ever a few other customers besides me. It was nice, but I miss the crowded chaos of the NYU location. Writing in a crowded cafe and an empty restaurant are too entirely different experiences.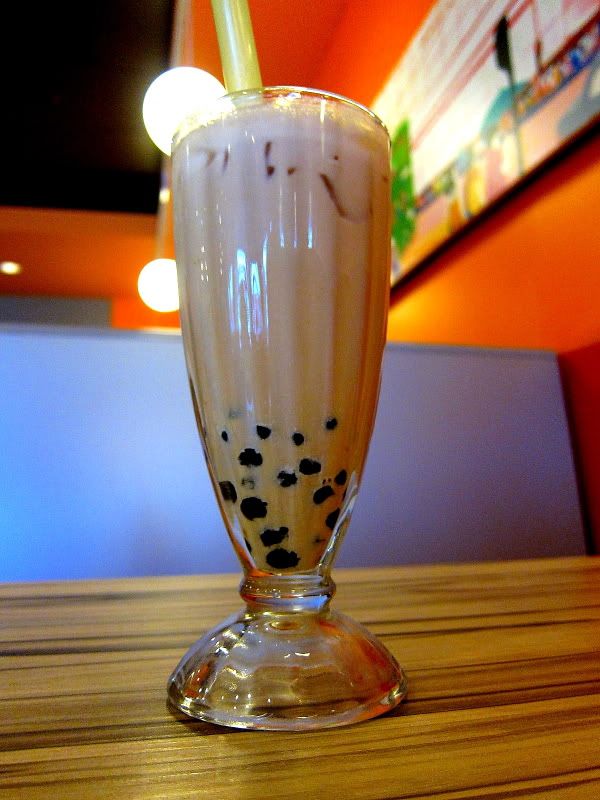 The food was pretty much as I remembered it, frothy bubble tea, tea eggs, chicken wings, pork chop. God how I wish there was Taiwanese food in Portland.
After all is said and done, I love the Saint's Alp in NYC way more than Chicago, but I love Chicago as a city way more than NYC. What's to be done about that? Well, at least I got to experience it for a brief time this fall.